Extreme canyoning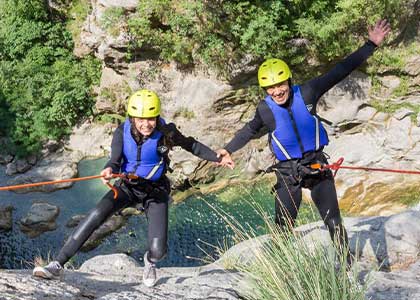 Description
If you are looking for a real adventure then this trip is created for you. For those who want more adrenaline, we offer extreme canyoning. With basic canyoning, extreme canyoning also includes lowering down Gubavica waterfall with the use of professional climbing equipment accompanied by an experienced guide.
A combination of canyoning and swimming in crystal clear water with unique waterfalls guarantees an unforgettable day in the beautiful nature of the Cetina river.
The trip also includes a downhill ride along the Gubavica waterfall, which is 18 meters high.
Gallery
Price
includes transfer from Split
excludes transfer from Split
Both prices include: Professional licensed guides, wetsuit, helmet, life west, harness.
At the end of tour we will transfer you back to the starting point.
Tour info
Departure days: Every day
Availability: All year through
Duration: 3-4 h
Total tour time: 6-7h
Itinerary
10:00 h - Departure from Split
50 min - Bus ride
11:00 - 14:30 h - Extreme canyoning adventure
50 min - Bus ride
15:30 h - Arrival in Split
Useful information
Distance: 2500 meters
Deepest part: 180 meters
Highest waterfall: 55 meters
River temperature: 18-21 °C (64-70 °F)
Fitness level: On the scale from 1-5, is 3
Age limit: 12 years old
Experience: Not necessary
Swimming knowledge: Not necessary, life vests are provided
Cliff jumping: All cliff jumps are optional, and can be avoided
Staff: Our professional guides are all certified at Croatian mountain rescue service, and the most experienced guide in our team has finished over 1000 successful canyoning trips. All guides speak fluent English
Tips: Bring swimming suit, towel, running shoes (not flip flops or beach shoes), and clothes to change in later. If you don't have running shoes, you can rent canyoning shoes from our storage house (50kn per pair).
Minimum number of participants: 1 person